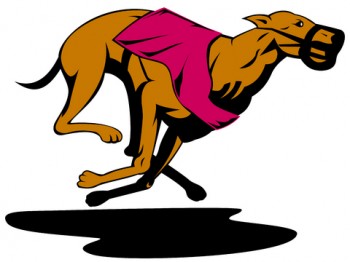 Are you voting in Massachusetts next week?  If so, be sure to read Question 3 carefully.  If the majority vote Yes on Question 3,  greyhound racing would be phased out in the state by 2010. 
This issue is thought to have appeared on the ballot as a direct result of the 2001 Sunshine Law, which required greyhound tracks to publicly report the number and types of injuries suffered by racing dogs.  Reports from 2002 – 2007 indicate that more than 800 greyhounds have been injured while racing in Massachusetts, mostly by broken legs. 
The State Racing Commission mandates that a racing dog's cage be at least 34 inches high by 32 inches wide.  Keep in mind that these are for greyhounds, who stand as tall as 30 inches at the shoulder.  These small cages, stacked on top of each other, do not allow the dog to raise his head for the 20 hours per day he spends in the kennel.
Opponents of the measure state that dog racing employs about 1,000 people and adds $41 million to the state's revenue base.  They insist that the dogs are protected by the constant supervision of the state police and the Massachusetts Racing Commission, as well as by periodic care from certified veterinarians.  They say that there has not been one documented case of dog abuse at any licensed track in the state.
Doggies.com urges you to vote and, if you are in Massachusetts, give careful consideration to how you will vote on Question 3.
What about the rest of the country?  Do you have legislation concerning dogs in your state?  If so, let us know so we can provide some insight into the issues.'
Until next time,
Good day, and good dog!
Similar Posts: