How Many Jewels Should a Maltese Wear?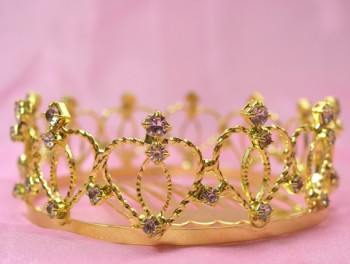 We have a little newsletter that is put out by Mindshare Marketing and free for the taking at many coffee shops, restaurants, and other small businesses all over Canton and the surrounding area.  Each week, there is a section called "Everybody's Talking" that highlights weird and wacky news stories.  Thought you might enjoy this one.
Riwin Jirapolsek, a jewelry designer in Thailand, has gone over the top to spoil his beloved pet Kanune, a 15-year old Maltese.  He's designed a tiara, sparkling with precious stones and worth $4.2 million, for his pet to wear.  Riwin says the 250 carats of emeralds and diamonds in the tiara were given to him by his mother.  He took about eight weeks to design the headwear for Kanune and says he hasn't any intention of selling it.  His next project will be a jeweled hair clip his pooch can wear to keep its fur out of its eyes.
Wonder if the dog wears it during the day or only with silk evening gowns?
Until next time,
Good day, and good dog!
You can receive our Doggies.com Blog articles everyday for free on your email inbox, Just enter your email below:

Read More Similar Posts: