Pardon me. Do you have any Grey Poupon?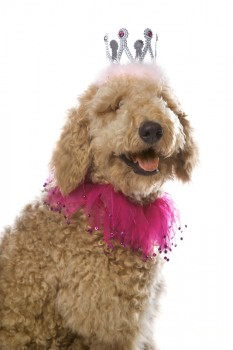 A new survey points out that millionaires don't just like weird mustard, they also prefer dogs to cats. Among those of us who aren't millionaires, about 39% own dogs while 33% are owned by cats. Among the richey-rich, however, 58% have a dog while only 37% share their homes with a cat. (3% have fish, 2% have birds and 2% have a horse).

As we all know, dogs are way cooler. The study, conducted by the Spectrem Group and reported in USA Today, also took a few guesses as to why. The biggest reason, it seems, is that dogs love you no matter what. They don't care if you have money or not, and therefore are not seen as being gold-diggers.
The survey also asked what people spent money on for their pets. About a third said grooming was in the budget, while only 6% buy bling and clothes. More than half spring for teeth cleaning, and better than 15% would shell out for the treatment of chronic ailments like replacing arthritic joints or medicating a depressed or anxious dog.
Now if only I'd won that Powerball jackpot, I could let you know where I stand on the issue!
Until next time,
Good day, and good dog!
You can receive our Doggies.com Blog articles everyday for free on your email inbox, Just enter your email below:

Read More Similar Posts: