A collection of photos honoring our K-9 military heroes. (And doesn't the last one remind you of Arte Johnson's sentry character on Laugh-in? Verrrrrry Interesting!)
It seems like this clip from ABC News got kind of cut off in the middle – it's very short, but Mother Nature Network provided some more details about these amazing dogs.
[Read more]
In honor of those who have fallen, we present this YouTube salute to military working dogs and their handlers.
Until next time,
Good day, and good dog!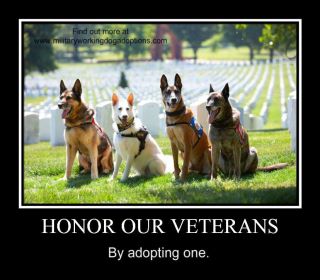 I can't think of any better way to say "Thank You" to them all, can you?
Please visit MilitaryWorkingDogAdoptions.com to find out more about adding one of these K9 Heroes to your family. It is estimated that a MWD saves an average of 3-5 soldiers lives A DAY and an estimated 150 lives throughout their careers. Thank a hero, thank a four legged veteran.
In the US it's Veteran's Day Weekend. In Canada, it's Remembrance Day Weekend. Most of us have some tie that makes us reflect, if even for a moment.
We all know "working dogs" truly love a perfectly executed assignment if only to see a smile on their master. It's rewarding for them.
We brought you a great video from Military.com about soldiers befriending dogs overseas. Now here's a special look at the dogs who are working side by side, and actual members of our armed forces.
New York Times Best Selling Author Lisa Rogak has captured the excitement of working dogs in her new book The Dogs of War.   It's an inside look into a very elite, working and special class of dogs.
Touching video from Military.com about "strays" befriended by soldiers in Afghanistan.
Until next time,
Good day, and good dog!
From today's Facebook feed.  Too cute!  Warms your heart, doesn't it?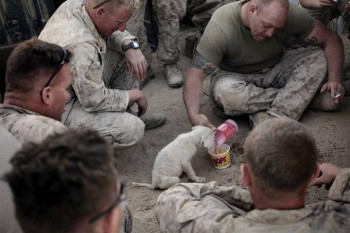 Until next time,
Good day, and good dog!
I stumbled across this website while I was looking for something else, and as soon as I saw it, I knew I had to draw your attention to it.  Old Dawgs and Pups is a group of Vietnam-era military K-9 handlers who have made a commitment to help out current K-9 teams overseas.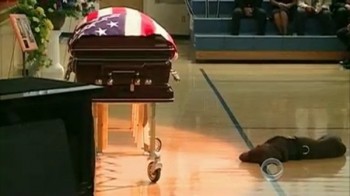 Don't you just love this picture?  They aren't lying when they call dogs Man's Best Friend.  This showed up recently on Facebook – made me cry.  Here's the original caption, but I don't know who took the pic.
During Navy Seal Jon Tumilson's funeral yesterday, his trusted canine friend Hawkeye guarded him one last time.
Tumilson was one of the SEALs killed in the helicopter crash August 6th in Afghanistan.
To all of you who are serving:  Thanks, stay safe, and come home soon!  We love each and every one of you.
Until next time,
Good day, and good dog!
UPDATE:  Rocky was saved today!  Trying to get details.  Please read below for more info.  Pets for Patriots can still use your support!
This is such a sad story – makes me wish I didn't already have a houseful.  Rocky served three tours in Iraq between 2004 and 2007.  His last handler was killed in action, so Rocky was brought back to the States and has been cared for by other members of the unit.  However, now that his back legs are failing, the military will have to put him down unless someone adopts him by August 24th. [Read more]