With all of the bad news about K-9s this week, I had to post something to make you smile.
Until next time,
Good day, and good dog!
I ran into Jethro and his handler while I was at the car wash yesterday. Jethro is an officer with the Canton (Ohio) Police Department, trained for patrol and for narcotics detection.
He's very focused, but not really on the camera. His handler was standing behind me with his Kong toy.
Thanks to both of them for their service to the city I call home.
1/9/16 UPDATE: IF YOU'RE LOOKING FOR DETAILS ON JETHRO'S SHOOTING, CLICK ON "BLOG" FROM THE TOP MENU, OR FOLLOW THIS LINK TO THE MAIN BLOG PAGE.
CONTRIBUTE TO THE GO FUND ME CAMPAIGN FOR JETHRO.

Until next time,
Good day, and good dog!
Meet Recon! He is the newest sheriff's deputy in Stark County, Ohio. The department's Facebook page says he was sworn in last week and will be used both at the jail and out on patrol.
Thank you for your service, Recon! (And handler Jamie Price.)
Until next time,
Good day, and good dog!
Ridgefield, Connecticut said goodbye yesterday to Police K-9 Zeus, who had to be put down due to a degenerative hip disorder. No one has said as much, but I'm assuming hip dysplasia. Before he was euthanized, officers drove him in a squad car to the vet's office, and the town turned out to say goodbye.
[Read more]
Tacoma News Tribune
is reporting that he accidentally sniffed some methamphetamine up his nose and has died. The 11-year old black lab had served with the department since 2010.
[Read more]
Wow! I wish the National Post from Calgary would have included a link to let me embed this whole video. I hope you'll go to their site and watch it.
From the Oklahoma City PD's Facebook page – so sad!
A Final Goodbye – Sgt. Ryan Stark says goodbye to his K-9 partner, Kye, at Kye's funeral yesterday at First Southern Baptist Church in Oklahoma City. Kye was killed in the line of duty earlier this week. #RIPKye
The memorial video they have posted on Facebook is worth watching.
Rest easy, good boy. Thank you for your service.
On a related note, I'm sending sympathy hugs to my sister, Marilyn, who had to put her beloved Japanese Chin, Molly, down yesterday due to heart failure.
Until next time,
Good day, and good dog!
From the Brimfield PD Facebook page (if you haven't "liked" it yet, you should!): About eight years ago, our department was very fortunate to welcome K-9 Joker into our ranks. Today is K-9 Joker's birthday! He is now retired and at home, likely barking at squirrels and joggers.
K-9 Joker served the Brimfield Police Department for seven years, assigned to (now) Captain Adkins. Joker had an awesome nose and excelled at finding drugs, tracking and evidence recovery. He once tracked a drunken driver over pavement, through woods and swamp and directly to the back door of the fella's house. He is a hoot to be around and had one heck of a work ethic. He was responsible for removing countless drugs from the streets.
He is now enjoying retirement and still lives with his police partner, Captain Adkins. Captain Adkins is not retired, much to his regret when subjected to my daily shenanigans.
Happy Birthday to K-9 Joker. We miss working with you. I truly miss the slobber all over my desk, phone, computer, pants, boots and chairs…..
Although my stash of stuffed animals is much safer now…..Chief Oliver.
Until next time,
Good day, and good dog!
I wanted to post something about the death of Rocco, a Pittsburgh K-9 killed in the line of duty. However, when I looked on the Brimfield Police Department's Facebook page, I realized that there was nothing I could say that would express my sorrow any better than Chief Oliver's post. Here are his thoughts on this tragedy.
[Read more]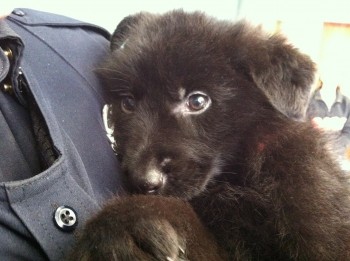 If you check in here regularly, you know that I absolutely love the Brimfield (Ohio) Police Department's Facebook page. They recently introduced their newest K-9, Pseudo. Hard to imagine this little sweet-faced puppy will grow into an aggressive, competent professional police dog!
Until next time,
Good day, and good dog!