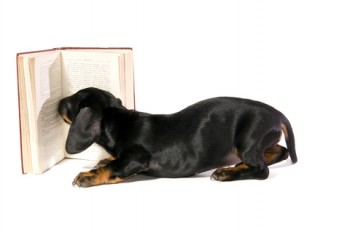 I received the magazine from my book club today, and found two books you might be interested in. I haven't read either of these yet, so I can't give you anything other than the promo stuff in the magazine, but they both sound good.
The first is "Dogged Pursuit:  My Year of Competing Dusty, the Word's Least Likely Agility Dog" by Robert Rodi.  Robert took his rescued Sheltie,Dusty, out on the agility circuit, and wrote this book about their victories, failures, and misadventures.  The promo says you will be shaking your head in understanding.  A quote from the book:
"Soon we're up and despite my carefully planned moves, Dusty chooses to chart an entirely different course.  Perhaps he doesn't realize points aren't dispensed for originality.  I shout at him.  I plead.  I cajole.  And someetimes he deigns to acknowledge me, almost out of pity.  But in general he treats me like a substitute teacher whose authority he can ignore with impunity."
Somehow, I think he is describing my dogs!
The second book is "The Art of Racing Rain" by Garth Stein.  The promo about this one says:  "Man's best friend examines the human condition in this heart-wrenching, hilarious and ultimately uplifting story of family, love, loyalty and hope."  Sounds like it's a lot more serious than the first one – maybe even a tear-jerker.  Sara Gruen, author of "Water for Elephants" says she absolutely loved this book.
Let me know if you've read one and what your opinion is.
And of course, don't forget you can buy my book here.  Mention promotional code HW5UFEP4 to get $2 off the cover price.  (If mysteries are more your style, you can also purchase my first novel here.)

Until next time,
Good day, and good dog!

Similar Posts: