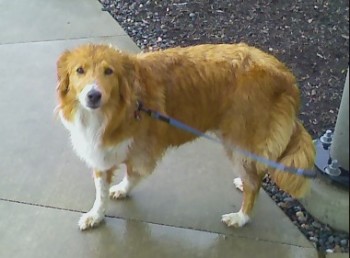 For once, I met a dog somewhere other than at an ice cream stand.  This cutie was at the library near my home, which is housed in one of the county's parks.  It's a really neat set-up there, with the library building set right next to a lake with a great walking trail through the woods.
Anyways, as I was walking in to find a Harry Potter book for my son, Gretchen was coming up from the walking trail, soaking wet from the late afternoon rain shower.  She was found in a cardboard box 3 years ago, weighing just 21 pounds.  With love, proper feeding, and exercise, she is now a healthy 55 pounds.  And she's just beautiful, even soaking wet!
Do you have a cute dog photo or dog story you'd like to share?  Send it to:  [email protected] so we can all enjoy it!
Until next time,
Good day, and good dog!
Similar Posts: