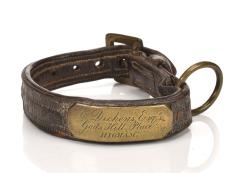 I was so wrapped up in the Westminster Show last week, I now have lots of dog-related news to catch you up on.  So, here's a wrap-up of what popped into my e-mail over the past week or so.
First up:  a Rhode Island man who says he didn't think there was anything cruel in operating on his own dog because he didn't have the money for vet  care.  Alan MacQuattie pled no-contest after taking a cyst off the leg of his 14-year old Lab mix.  When an infection set in, a properly-trained vet had to operate again to deal with it.
In the good news department;  West Coast Choppers' web site is reporting that Jesse James has been reunited with his beloved Pit Cinnabun.  The dog disappeared 3 weeks ago, and after several false alarms of sightings from people who are just beyond cruel, a Good Samaritan found and returned the dog to Mr. James and his wife Sandra Bullock.  The web site also has some great pictures of the reunion.
If you've bought Nature's Valley chicken-flavored pet food dated for use by November 10th, it may have been recalled.  The 3-lb chicken medallions, 6-lb chicken patties, and 2-lb chicken chubs may have been infected with salmonella.  This is not a brand I've heard of before, and I can't find a web site for them.  The story was reported on WEWS in Cleveland, if you need further information.
In a totally different story, WEWS has links to some good training tips for you and your dog.  If you have concerns around biting, chewing, jumping, walking, or housebreaking, check out their suggestions.
And last, but not least, if you have any old dog collars lying around, you may want to hang on to them in case at some point you become rich and famous.  A collar reportedly once owned by Charles Dickens has sold at auction for $11,590.  The collar, pictured above, is leather and brass and inscribed with Dickens' name.  "(I'm hoping this doesn't mean that he wore the collar himself – you know how creepy his novels were!)  The auction of dog art in New York City took place on February 16th, and the collar had an estimated value of between $4,000 and $6,000.  Bet they were thrilled when it brought nearly twice that!
Now you're up to date!
Until next time,
Good day, and good dog!
Similar Posts: