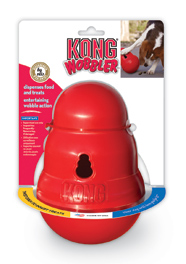 Looking for a great way to occupy your dog for hours on end?  Try the Kong Wobbler.
I was sent a Kong Wobbler to try out, and I'm not exaggerating when I say that this product kept Cooper occupied and happy longer than anything else I've ever given him. 
The concept is relatively simple:  It's a hollow toy, shaped like a snowman, with a hole in the side of it.  You can screw open the weighted bottom and put treats inside, then close it.  Cooper went nuts trying to get the treats out…for FOUR hours, until we finally took it away from him.
He wouldn't go outside, he wouldn't go to sleep, he wouldn't let the other dogs near him.  You get the picture.  I've never seen a dog so focused for so long in my whole life.
In fact, the next day when we took a car ride, we couldn't figure out why Cooper was being such a cry baby in his crate.  He normally settles down after about 5 minutes and sleeps the rest of the way.  I turned around and noticed that my son had packed the Kong Wobbler and it was right in Cooper's line of sight.  He wouldn't stop crying until we put it in his crate with him.
The Kong Wobbler is made of heavy duty plastic and is virtually indestructable.  Believe me, Cooper tried!
One of the recommended uses for this toy is for dogs who eat too fast.  If you make them eat from the Kong Wobbler, they'd have to slow down and work for their food.  Not a bad idea.
There were only two things I thought could be better about this toy:
1.  The treats they sent to me were too big for the opening in the toy.  I had to use regular dog food in order for Cooper to be able to get anything out.  I don't know if the treats come with the toy normally or if you'd have to buy them separately, but if you have to buy treats for it, make sure they aren't much bigger than kibble.
2.  I had difficulty unscrewing the bottom and putting it back together.  I don't think this would be an issue for most people, but I have pretty small hands. 
Once I got it properly loaded, however, it was a fantastic toy and Cooper is still playing with it a week or so later.
I took a video of Cooper playing with it, but couldn't get it to load here.  Instead, here is the (much better) video from the company's site. 
Until next time,
Good day, and good dog!

Similar Posts: