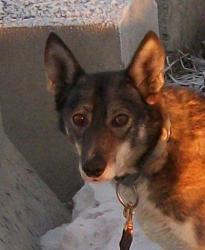 Meet Squirrel!  She is currently living in a foster home with Adopt A Dog AK in Anchorage, Alaska.  What's interesting about this shelter is that it is operated by Service Dogs of Alaska.  I don't know that I've ever seen a service dog organization linked to a shelter in this way.  Anyways, here is what their website has to say about this beautiful girl.
Squirrel is a beautiful little husky that is scared of new surroundings. Her previous owner moved and decided that her two dogs, Squirrel and her brother Thorpe, weren't needing to go along with her. So she was going to have Squirrel and Thorpe put down for absolutely no other reason than she didn't want to place them with someone else! Luckily we were able to convince her to let us take them instead:) Squirrel has been in a foster home for the past few months and has adjusted wonderfully. She is a silly girl that will nudge you with her nose to get you to rub her chest for just a few more minutes. She absolutely loves her dog bed and will pick up toys and walk around the house with them like they are a hidden treasure she found. She is a little shy at first but warmed up within the first few days. She will need a special home willing to take some extra time with her. She is worth every minute though because the first time she trusts you enough to cuddle up next to you it will simply melt your heart! Her foster home right now is just temporary and she needs something more permanent, like a home to call her own. **Please note that at this time Squirrel needs a new foster home or an adoptive home ASAP.**
If you're summering in Alaska, why not contact Adopt A Dog AK to make arrangements to meet Squirrel and all of her friends.  Please call 907-717-4931 or send an e-mail to [email protected].  If you'd rather, you can fill out an adoption application online.
If you're in the lower 48 (or even in Hawaii), check out Petfinder's Shelter Center to locate adoptable dogs near you.
Until next time,
Good day, and good dog!

Similar Posts: