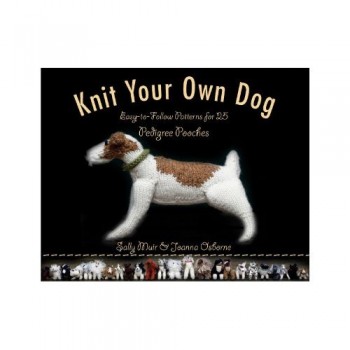 I spent this past weekend at my mom's house in Hamilton, Ohio for a family reunion.  She had the cutest book, called Knit Your Own Dog by Sally Muir and Joanne Osborne.
I'm not a knitter, but the patterns looked pretty easy to follow with lots of pictures.  There were patterns for 25 different breeds, including the Corgi, the English Bulldog, and the Dachshund, and the book suggests you might mix and match to make your own designer dogs.
Muir & Osborne are apparently well-known in the fashion industry, their knitwear business having grown exponentially after Princess Diana wore one of their jumpers to the polo games at Windsor in 1981.  Both dog lovers, they published their first book, Pet Heaven, in 2007, featuring patterns for dog accessories.  They have appeared live on the Martha Stewart show.
Here's what their website has to say about this book:
Knit Your Own Dog offers the unique opportunity to knit yourself a dog. The knitted dog is of course the perfect easycare companion, it doesn't need walking, feeding, is totally silent, there are not vet's bills, and best of all it will never die on you.
With Sally Muir and Joanna Osborne's designs you can now knit your precious pet, reproduce your favourite breed, or even knit the dog that you have always desperately wanted. The dogs are surprisingly easy to make. It will only take a few evenings to create a covetable companion for life. Idiosyncratic descriptions of the various breeds accompany beautiful photography, making this book irresistable for both keen knitters and devoted dog-lovers.
The website also offers individual pattern kits for each breed, as well as completed projects for those who want the product, but don't have the time or skills to make one.  You can find both books in bookstores everywhere.  The ISBN for the new book is 139781579128746.
Until next time,
Good day, and good dog!

Similar Posts: