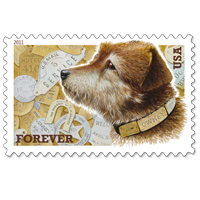 Have you seen the new stamp put out by the USPS?  It is one of those "Forever" stamps that you can buy at today's rates and continue to use regardless of how high postage rates go up.  (If interest rates continue so low, I may consider investing!)  Anyways, this stamp features Owney, the canine mascot of the Railway Mail Service.
According to the Postal Store:
In the 1880s, during the height of the Railway Mail Service, clerks in the Post Office in Albany, New York, took a liking to a terrier mix named Owney. Fond of riding in postal wagons, Owney followed mailbags onto trains and soon became a good-luck charm to Railway Mail Service employees, who made him their unofficial mascot. Working in the Railway Mail Service was highly dangerous: According to the National Postal Museum, more than 80 mail clerks were killed in train wrecks and more than 2,000 were injured between 1890 and 1900. However, it was said that no train ever met with trouble while Owney was aboard.
As Owney traveled the country, clerks affixed medals and tags to his collar to document his travels. When John Wanamaker, Postmaster General from 1889 to 1893, heard that Owney was overburdened with tags, he gave him a special harness to display them all. During his travels, Owney accumulated more than a thousand medals and tags. Today Owney is on display at the Smithsonian Institution's National Postal Museum in a case that includes some of his medals and tags.
Art director Phil Jordan worked with veteran stamp artist Bill Bond to create this special symbol of the United States Postal Service.
Order Owney stamps from the Postal Store.
Until next time,
Good day, and good dog!
Similar Posts: