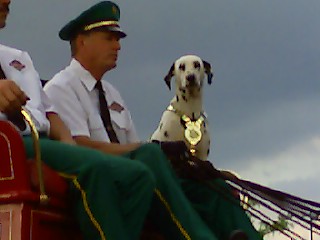 The first Friday of each month, downtown Canton holds a "First Friday" event to draw people to the downtown area.  Sometimes it's a concert, sometimes a wine tasting, sometimes an art show – whatever.  This month, the big feature was the Budweiser beer wagon, pulled by a team of 8 Clydesdale horses.  Boy, were they beautiful!
How does this tie to a dog blog?  Did you know that the wagon also carries a Dalmation, just like a fire truck?  I sure didn't, but I guess it makes sense historically.  The Dalmations were originally used to keep stray dogs away from the horses used to pull fire trucks, so it follows that other industries that relied on horse-drawn wagons would use them, too.
Just a little history lesson for you!
Until next time,
Good day, and good dog!
The picture of the horses didn't turn out as well due to the crowd, but thought you'd like to see the horses, too!