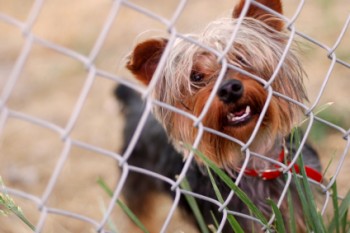 Thanks to friend-of-the-blogger Pam for sending this important warning about dogs being stolen right from their own back yards.

It is Spring, and warmer weather is coming.  I would like to remind everyone, tell your friends, neighbors, relatives, everyone, NEVER EVER go away from home and leave you dogs outside.  Put them in the house or basement, or a safe secured place out of the view of the public eye.

There are what is called "bunchers" that are continually out patrolling for dogs and yes, this includes your dog.  Bunchers steal family pets. When they get a "bunch,"  they sell them to research for a hefty price.  Average is $200-400 per dog.  Domesticated dogs make the best dogs for research.  These ruthless people monitor your area, your routine and watch for dogs for when they are left outside.  They normally travel in pairs, one buncher drives, the other jumps out and snatches the dog.

Dog Pelts: Last month in Ohio, 14 dogs were found skinned, and animal control felt their pelts could have been the reason.  Pelts are put on clothes and are popular in many countries.
There are also dog fighters that gather dogs and cats and use them as bait to get their fighting dogs ready for a fight.  Dog fighting purses range from $20,000-$50, 000 per fight.
There are also ruthless people that would snatch your dog and sell it on the black market for pets.
The economy is an issue and many are looking for ways to make money.  I can't stress enough how important it is to secure your pets when you're not home and watch them when you are home.  A dog can be snatched in a matter of seconds.
Until next time,
Good day, and good dog!
Similar Posts: