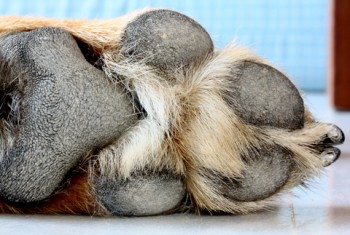 Here in Ohio, we are just about recovered from our first major snowfall of 2010.  When I let my dogs inside last night, I took a look at their feet – bad news!  My golden had lots of snowballs stuck between her toe pads, and all of the dogs' toe pads looked a lot worse for wear.  So, I did a little research today to find out how to take better care of their feet during the harsh winter weather.
First of all, if you live in a very cold area, consider buying booties for your dog.  These are available at outdoor stores like Cabella's and are especially helpful for dogs with long hair between their toes, dogs who are elderly, and dogs who seem especially sensitive to cold.
Next, trim the hair between your dog's toes.  This is what caused the problem with my Golden Retriever.  Long hair allows snow and ice balls to form and cling to the feet.  As your dog walks, the balls work their way in between the toe pads and can cause quite a bit of unnecessary pain.  Check your dog's feet when he or she comes inside and remove any snow or ice you find pretending to be toe jam.
Keep a pail of water and some towels near the door your dog uses.  Dipping the dog's feet in the water and drying them thoroughly will not only remove mud but will also dissolve any road salt or ice melt that might be stuck to your dog's paws.  Many of these substances are irritating to your dog's feet and can cause stomach problems if the dog licks the chemicals off his or her feet.
If you need to clear slippery walkways where your dog may walk, check the label of any commercial preparations you use to make sure they are safe for dogs.  Alternatively, use kitty litter or sandbox sand to provide a sure-footed surface.
If you will be walking your dog, try spraying his or her feet with a little bit of cooking spray (like Pam) before you go out.  The oil will moisturize and protect the footpads.
Until next time,
Good day, and good dog!
Similar Posts: