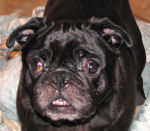 Meet Sherman!
Sherman is currently a ward of Polar Pug Rescue in Anchorage, Alaska. According to the Polar Pugs web site:
Sherman is a 6 year old black 'special needs' pug.
A lifelong bout with chronic dry eye has left him with eyesight that is not the best. He sees just fine but has a harder time in the dark. Because of his dry eye he requires special ointment twice daily at an approximate cost of $40.00 per month.
This sweetie is getting around so much better since his knee surgery.
Sherman is still getting therapy for his knee. He now is on Rimadyl possibly for the rest of his life. This cost about $60.00 per month.
About Polar Pugs (love the name, BTW):
Polar Pug Rescue is a 501(c)(3) non-profit organization made up entirely of volunteers within Alaska. We are here to help rescue pugs find their 'forever homes'.  Pugs surrendered to Polar Pug Rescue are placed in foster homes with dedicated volunteers for evaluation, social needs and vet visits.
For each and every pug, the care we provide includes:
Getting them up-to-date on vaccinations.
Spaying/neutering them (if needed).
Microchipping.
Solving their social and health issues on a one-to-one basis.
We try to match the perfect home to every pug. No pug will be turned away. We will take any and all pugs regardless of age, health or temperament.
The next Pug Party happens Saturday, July 10th, 2010.
Join our Yahoo Group for more pug party details.
If you have any questions, contact Maryjo at [email protected]
Here are pictures from the May 8th, 2010 pug party.

I'm not real sure what a pug party is, but it sounds like fun!
If you're going to be near Anchorage soon, why not write to Maryjo and make an appointment to see Sherman or any of the other wonderful rescue dogs they have.  If you're not near Anchorage, check out rescues and shelters in your area on Petfinder's Shelters Center.
Until next time,
Good day, and good dog!
Similar Posts: