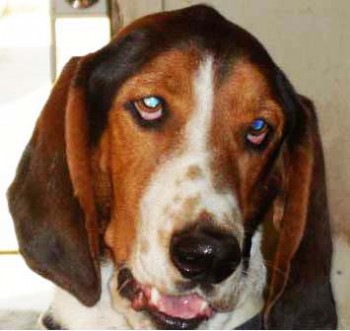 Meet Beau!  This adorable basset hound is a resident of the Basset Rescue Network at Daphneyland, near Los Angeles, CA.
Beau is a 12 – 14 month old male, neutered, short coat basset, 50 lbs, house-trained in progress, gets along great with other dogs, kids, highly active with all that puppy, young adult energy, very friendly. Beau would be great for an active family. He does not seem to care about the feral cats outside, but will bark at them, if the other hounds are making a fuss.
According to their web site, Basset Rescue Network is comprised of volunteers from all walks of life, who donate their time, talents, labor and money to assist in saving the lives of Basset Hounds.
As a non-profit organization, we focus on the purebred basset hound who may end up in animal shelters, humane societies, or may be the victim of animal abuse, neglect, perhaps the basset hound was just unwanted, a situation beyond the control of an owner may land a basset hound in a "rescue" – or just being misunderstood.
Each hound has their own story and our volunteers pick hounds up from shelters and transport them to our rehabilitation center, to the vets, help socialize, care for them, feed them, groom them, work with them on leash training, house training, etc.
Basset Rescue Network is the largest Basset Hound rescue organization in the United States, but they are currently in dire financial need.  Check out this Associated Press article on the need for donations.  Please help if you can:  sponsor a dog, send money, foster or adopt if you are in the Los Angeles area.  If Bassets aren't your breed (gasp!), or if you're not in California, check out the rescues and shelters near you at the Petfinder Shelter Center.
Until next time,
Good day, and good dog!
Similar Posts: