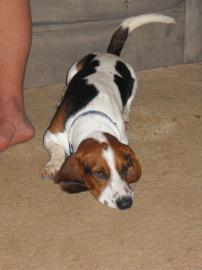 Meet Jenkins!  This adorable little guy is being temporarily homed by Hounds Haven Basset Rescue of Iowa, Inc.  (Where their slogan is "Long name…short dogs."  LOL)  Here's what their website has to say about this cutie.
I know I know it's just too much to handle how much handsomeness exudes from me…right?! Hey everyone I'm Jenkins and one of the new hounds with the HHBR Crew. I have to say I am certainly the class clown of the Crew and truly am the life of the party. I was found as a stray in Topeka, KS & taken to the local Humane Society where I spent a little while trying to find my forever home and when it just wasn't in the cards for a local family to adopt me I made my journey into the HHBR Crew and up to IA to my current foster home. Along my trip I met some new hound friends and here at home I have my foster sister Martha to have a rip roarin' time with and the Basset 500 is a common occurence around here. I also have Gracie, the Wiemeruner, as a foster sister here and well she's a party pooper and certainly the mother of the group, alway trying to keep us young whipper snappers in check. I also have a human kid here and well she and I have become fast friends…she's even letting me cuddle in bed…I know could the life a hound get any more perfect than this? I am house trained & do pretty well at letting you know I have to go out, but my forever home will have to have understanding and patience while I learn your routine and schedule. I am UTD on all vaccinations, Heart worm Negative & on monthly Heart Worm preventative, De-flead, de-wormed, microchipped and altered.
For more information on Jenkins please contact Jess'e at [email protected]
If you're not anywhere near Iowa, be sure to check out PetFinder's Shelter Center for adoptable dogs near you.

Similar Posts: