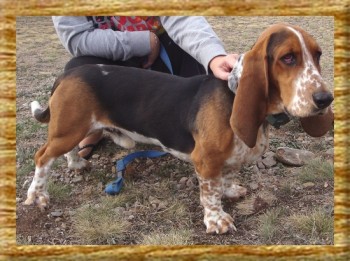 While you're celebrating the holidays with your family, don't forget about all of our friends in shelters who are looking for forever homes.  This week, we feature Charlie, who is currently being fostered by Basset Rescue of Montana.
Here's what their website has to say about this stately hound:
Charlie is a young (approx. 1 1/2 years), gorgeous, tricolor boy who is looking for a family to call his own. He loves kids and everyone else, for that matter. He has fun chasing cats but doesn't know what to do with them if he catches 'em! Charlie needs a nice fenced yard so he does not sneek out and cause distress in the chicken coop. Neutered, healthy, loving, and a sincere basset from the tip of his nose to the tip of his tail, there's nothing else to do but love him, play with him, and give him his forever home! He's currently being fostered with Chris in Libby, who is the person you should call for more details after you fill out an application form and send it to:
Basset Rescue of Montana
14600 Springhill Rd.
Frenchtown, MT 59834
ATT: Adoption Applications
And please include please your $8.00, or use our paypal button on our site. Charlie is waiting! You can email Chris at: For more information, please email: chrisranboo AT yahoo DOT com  or call her at (406) 283-1950.
If you're nowhere near Montana, check out PetFinder's Shelter Center to find adoptable dogs in your area.
Until next time,
Good day, and good dog!
Similar Posts: