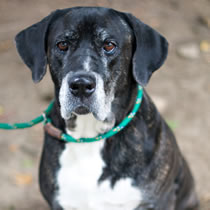 This is Clyde. Clyde is an 8 Year Old Neutered Male Mastiff Mix who has been in a shelter since December of 2007. He is going to need an owner that is experienced in handling large breed dogs and behavioral issues. Clyde's unsure of strangers – once he knows you, he's a big baby.  He gets along with some other dogs, but does not like cats. Clyde's a sweetheart, and has been waiting a long time for the right home to come along.
Clyde is currently living at Adopt-A-Dog in Armonk, Connecticut.  Adopt-A-Dog is a dog and cat rescue and sanctuary organization serving New York and Connecticut and beyond for nearly three decades.  Their shelter is open seven days a week.  Their dedicated staff and volunteers strive to provide the best care possible while the animals are at the shelter awaiting safe and permanent homes.
If you're near Connecticut, why not make an appointment to meet Clyde and his buddies by e-mailing Adoptions AT AdoptaDog DOT org  or calling 914-273-1674.  And if you're not near Connecticut, check out the available pets near you on PetFinder's Shelter Center.
Until next time,
Good day, and good dog!
Similar Posts: