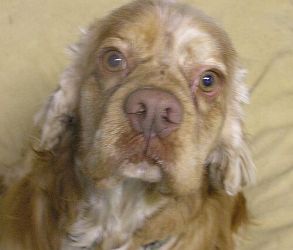 Meet Timmy!  Is it ok to say a boy is beautiful?
Timmy is a young male tan and white American Cocker Spaniel, currently residing at Saving Pets One at a Time (SPOT) in Burlington in beautiful Washington State.
According to his Petfinder profile:  "Timmy is an American Cocker – tan & white. We think his owner may have turned him in as a 'found' dog to a local PD. We've had him groomed and neutered – this was the first grooming in his life and did remarkably well with the process. Timmy is just a love! He doesn't have a lot of training on him but is picking things up very quickly. He does well with the other dogs in his foster home and loves people attention. He's clueless about the cats so should transition into a feline home without much issue. He does love to play and still has the youthful 'goofiness' that makes him comical but also a little clueless =)…He is a dear little guy and probably one of the softest mouthed Cockers we've seen in awhile. Stats: Neutered male purebred Cocker Spaniel, 1 – 2 y.o. Adoption: $200. includes neuter, vaccinations to date, micro chip and registration, in-home week trial adoption. If interested in Timmy contact Nina at [email protected] or submit an online ADOPTION APPLICATION."
More About SPOT
In the hopes of increasing the animal "adoption options" in Skagit County and beyond, a group of animal lovers got together in the Fall of 1999 and started a non profit alternative animal rescue and placement organization called Saving Pets One at a Time (SPOT). By increasing the options that people have, SPOT hopes that more companion animals will find loving and permanent homes. In addition, SPOT hopes to help reduce the number of homeless pets within Skagit County and beyond by insisting that all animals placed in their care are spayed or neutered.
Each pet receives daily one-on-one care and attention while in foster care. We work on training and socialization skills to help each pet be the best they can be. Pets do not leave foster care until we feel they are emotionally and physically ready to be placed into a permanent home.
SPOT does not have a central facility but rather relies on a group of foster homes. These homes provide a safe haven for the animals until they can be placed in a permanent home. The foster homes are carefully screened to ensure that proper care and a loving environment will be provided during the animal's stay. SPOT has a limited number of volunteer foster homes currently available, so if you are interested in becoming a foster home for SPOT, please contact the organization.
SPOT's ongoing outreach program enables the organization to showcase the companion animals currently in their care. The success of SPOT's outreach program is possible due to dedicated volunteers and the support of local businesses. Adoption outreach booths are located at PETCO in Mt. Vernon on Saturdays from 11 AM to 3 PM; PETCO in Bellingham the 4th Saturday and Sunday from 11 AM to 3 PM;.  Volunteer Adoption Counselors accompany the available animals to these sites to provide the opportunity for people to view the pets and to help ensure that animals are placed in a home that matches their temperament, activity level and maturity level.
SPOT is very firm in its policy that all animals are spayed or neutered prior to placement within a home. This policy is essential in helping to reduce the number of homeless pets within our community.
Volunteers are the backbone of SPOT's success. Thank you for your interest and for your hard work and dedication to a very worthy cause.
If you're in the Burlington area, please consider adding Timmy or one of the other dogs being fostered by SPOT to your family.  If you're located elsewhere, find a nearby shelter by visiting Petfinder's Shelter Center.
Until next time,
Good day, and good dog!
Similar Posts: