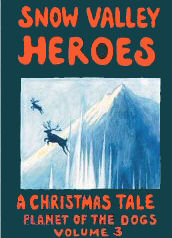 Snow Valley Heroes:  A Christmas Tale is the third in the delightful Planet of the Dogs series by Robert J. McCarty.  The premise of the fantasy series is that dogs once lived on a separate planet, but came to earth occasionally to teach us about loyalty and love, helping us mere humans to find peace.
In the first book of the series, the hard-working farmers of Green Valley were going to be invaded by the Stone City Warriors when dogs came to their rescue.  In the second book, dogs came to the land of the Forest People to free kidnapped children from the Castle in the Mist.  In this volume, the dogs must overcome the cruel King of the North and bring peace to the Ice Castle in order to save Christmas.
Saving Christmas, although a familiar literary theme, is presented in a new way as the inter-planetary dogs struggle to rescue Dasher and Dancer from the evil King of the North so they can pull Santa's sleigh. The heroic dogs are the center of the story, and all the loose ends are nicely wrapped up in a happy conclusion.
The book is made up of very short chapters, allowing young readers (ages 6 – 12) to conquer one or more chapters in a sitting.  My 11-year old loved it!
Copies of all three books in the series may be ordered from the author's website.
A great stocking stuffer for the dog-lover in your family.
Until next time,
Good day, and good dog!
Similar Posts: