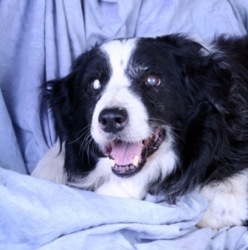 Meet Buddy!  Buddy is a resident of Diana's Grove Dog Rescue in Bunker, MO.  When I was looking for a dog to feature this weekend, I knew I had to choose Buddy because we're watching an episode of Cake Boss, where the star is named Buddy.
Here's what Diana's Grove has to say about this beautiful Border Collie mix:
Approximate Birthdate: January 2001
Weight: 35 lbs.
Buddy is a wonderful old guy… actually not so old, he is 9 or 10 years old. He has another 6 to 8 years to go and he needs a place where he can be safe and loved. Buddy is blind and has been for quite a while. He does very well and manages to get around and find the dog door. He loves to go for a walk and stays right by my side. He needs a seeing eye person and he can go anywhere. Buddy comes when called and will follow your voice anywhere you want him to go.
He is loving and affectionate. He loves to be petted and to cuddle. He does not like being picked up… that scares him. Buddy needs a home with minimal activity and a fenced yard. He has a hard time here because I have many dogs in my home and Buddy gets bullied by other dogs large and small.
We got Buddy a few months after his owner died. Neighbors took him in but they didn't have a fenced yard. Buddy kept crossing the highway to get home. For his safety, they asked us to take him. I would keep Buddy forever but being here is hard on him. He will stay with us until someone with love, compassion and understanding of his special needs gives him the rest of his life.
Before adoption, Buddy will be neutered, heartworm tested, microchipped, and have all shots current. His adoption fee will be a donation toward his medical expenses and will be arranged individually for this special situation. If this is the dog for you, click on the link to our application and tell us all about yourself.
We can arrange a ride to many places. There will be no delivery fee for Buddy.
If you're going to be in Missouri, call Diana's Grove at 573-689-2399 to meet Buddy and all of his friends.  If you're somewhere else, check out PetFinder's Shelter Center to find adoptable dogs in your area.
Until next time,
Good day, and good dog!
Similar Posts: