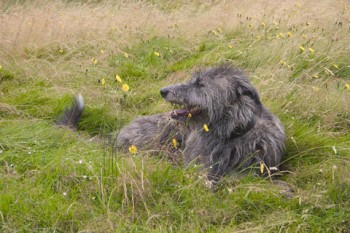 Here's the lineup for the grandaddy of them all: Best in Show at Westminster, 2011.

Sporting Black Cocker Spaniel GCH Casablanca's Thrilling Seduction "Beckham"
Herding Bearded Collie GCH Tolkien Raintree Mister Baggins "Roy"
Non-Sporting Shar-Pei GCH Vaje's Miss Jayne Hathaway "Jayne"
Toy Peke GCH Palacegarden Malachy "Malachy"
Hound Scottish Deerhound GCH Foxcliffe Hickory Wind "Hickory"
Terrier Smooth Fox Terrier GCH Slyfox Sneak's A Peek "Adam"
Working PWD GCH Aviators Luck Be A Lady "Ladybug"
None of these is among my favorite breeds, but here is my prediction:
Bearded Collie
And the winner is:
1 – Scottish Deerhound "Hickory"!
Thanks so much for joining us as we covered the 2011 Westminster Kennel Club Dog Show! I hope you've enjoyed it as much as I have.
Find the perfect dog breed for your family.
Until next time,
Good day, and good dog1
Similar Posts: