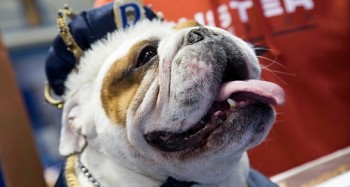 Have you heard of the Drake Relays, held each spring at Drake University in Des Moines, IA? Every year, before the start of the track meet, the school holds a "Beautiful Bulldog" contest – now in its 34th year. The contest is held in honor of the school's mascot, a Bulldog.

As this year's winner, Huckleberry will be the mascot of the week-long events surrounding the track and field meet. Huckleberry is a four-year old from Norwalk, IA, who lives with Steven and Stephanie Hein. He's said to be quite the lover and cuddler.
Huckleberry, who came dressed for success as Forrest Gump, competed against dogs in tu-tus, Harley gear, and even a Superman costume. See Flickr for all the adorable photos.
Until next time,
Good day, and good dog!
Similar Posts: