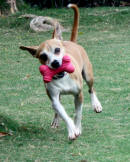 Meet Bruno! Bruno is a lucky dog because he lives in Hawaii!  However, he is looking for a forever home, and I'm thinking he'd go just about anywhere to find it.
Bruno is a basenji mix. He is about 5 years old and weighs about 12 pounds. He is neutered and micro-chipped and is current on his shots. Bruno is an exceptional cuddler. He loves to follow his favorite humans around the house and cuddle whenever possible. He has to be the softest dog you will ever pet! He lives for human interaction and, of course, any toy that squeaks! He does well with other dogs. Like most basenji mixes, Bruno is high energy. Be ready to exercise and play with him every day! If you can provide mental challenges, such as doggie puzzles and games, that will be a real plus. Bruno is house-trained and knows basic obedience commands. If you would like to add an affectionate, furry member to your active family, please complete an online adoption application and ask to meet him!
Hawaii Dog Foundation is a no-kill dog rescue organization based on Oahu. HDF is run entirely by volunteers. Although we don't have a central office or shelter that you can visit, we hold Meet & Greets on a regular basis so that you can come and meet our dogs.
You can also contact Hawaii Dog Foundation at (808) 782-8387 or by e-mail: info AT HawaiiDogFoundation DOT org
If you're lucky enough to be in Hawaii, try to attend one of their Meet & Greets.  And if you're anywhere else, check out PetFinder's Shelter Center to find adoptable dogs near you.
If you've adopted a dog, share your success story with us by leaving a comment!
Until next time,
Good day, and good dog!
Similar Posts: