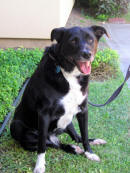 Meet Max! This sweet senior is living in Hawaii with the Hawaii Dog Foundation. It's hard to imagine that he could have any needs in paradise, but the truth is he's hoping for a forever home. Here's what the foundation has to say about him.

Max is a 14 year old lab mix. He weighs about 65 pounds, has been neutered and micro-chipped, and is current on his vaccinations. Aside from a little arthritis, he is in good health. Max is a low-energy dog and is happy to lie around the house. He enjoys short play-dates with other dogs and short, leisurely walks, but he mostly likes to take it easy! Max loves exploring outside with his nose, visiting with humans and dogs that pass by, and treats! He will probably do best in a home without young kids given his relaxing lifestyle. Max likes kids and he gets along well with other dogs, but he doesn't care for cats. Max is enjoying life and he needs a loving home. If you have room in your home and your heart for this calm, well-behaved guy, please let us know.
If you're going to be in Hawaii, be sure to contact the Hawaii Dog Foundation to find out more about Max and all of his friends. Call (808) 256-6927, send an e-mail to [email protected] or fill out an online application.
If you're not lucky enough to be in Hawaii, check out PetFinder's Shelter Center to find adoptable dogs near you.
Until next time,
Good day, and good dog!
Similar Posts: