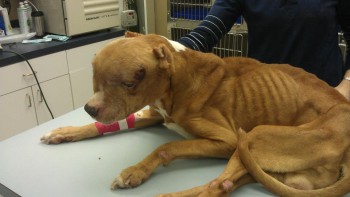 If you happen to live in northeast Ohio, you may have heard about Herbie, a starving Pit Bull found in the city of Lorain last weekend. He was in such bad shape he could barely stand, weighing in at just 25 pounds when he was found.

Herbie is doing a little better and is now eating out of the hands of his caregivers.
To raise awareness of his plight, Cleveland-area animal rescue organizations are organizing a 1-mile walk. If you're in the area, check out Herbie's FaceBook page. If you plan on going to the walk (with or without your dog), you're encouraged to wear a purple ribbon in honor of abused and neglected animals.
The Justice for Herbie Dog Walk Event starts at 12:30 p.m. on Sunday at Streator Park, between Long and Reid Avenues, close to the spot where Herbie was found by Lorain police acting on a tip.
Donations for Herbie's care can be made to The Wood Foundation, a non-profit for injured and abused animals, is accepting funds at 4205 Oberlin Ave., Lorain for the Lorain Animal Clinic.
If you'd like to help fund a reward fund for information leading to the arrest of whoever left Herbie in such terrible straits, there are three ways to do so:
1. Write a check payable to Fifth-Third Bank, noting account # 9978226844 on the memo line. Send the check to Fifth-Third Bank / 559 Broadway / Lorain, OH 44052-1731.
2. Send a donation through PayPal to [email protected].
3. Add a Chip-In widget to your own blog by going to this URL.
Until next time,
Good day, and good dog!
Similar Posts: