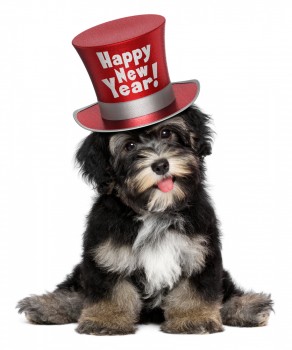 I always wonder which blog posts will be the most popular with people. Our stats tell the story of which stories, written in 2013, you looked at the most over this past year. As always, dog shows were king, but I'm pleased to see my newest dog, Daisey Mae, made the list!

10. My Little Daisey Mae, written 8/30/13, featured a picture of my Puggle, sleeping for all she's worth.
9. 2013 National Dog Show Results, Terrier Group, written 11/20/13, listed the winners from Thanksgiving Day's telecast of the National Dog Show from the Philadelphia Kennel Club.
8. Tuesday Top Ten: Dog Rules for Humans, written 1/8/13, tells you what your dog expects including the ever popular, "If it lands on the floor, it's MINE!"
7. 2013 National Dog Show Results: Toy Group, written 11/28/13, takes us back to Philadelphia, this time for the teeny, tiny dog winners.
6. Free to a Good Home, written 7/22/13, warns of the dangers of advertising a dog as "free to a good home."
5. 2013 National Dog Show Results: Working Group, written 11/28/13, takes us back to that crazy dog show, where the Standard Schnauzer was named best in this hard-working group.
4. Tuesday Top Ten: Favorites to Watch at 2013 Westminster Dog Show, written 1/2/13, gave us a preview of the grandaddy of all dog shows, held each winter at Madison Square Gardens. (The 2014 show is in early March – watch this space for all of the details!)
3. Mysterious Dog Virus in Ohio, written 9/10/13, was a scary article about an unknown virus that had killed at least four dogs in my home state.
2. Take a Chance on Me, written 1/2/13, featured a wonderfully-done video from the Wake County (Raleigh, NC) SPCA, showcasing their adoptable animals while volunteers lip-synched to the ABBA song "Take a Chance on Me." Kudos to them for using such great creativity to promote pet adoption.
1. 2013 National Dog Show Wrap-Up, written 11/28/13, went a little more in-depth with the group winners at the Philadelphia Kennel Club show. I had been live-blogging the event to bring you the group winners as they were telecast, but this article gave me a chance to do a little more research and share more than just the breeds that won.
As always, it awes and humbles me that so many of you keep returning day after day to read what we bring you. I'll keep writing if you'll keep reading!
Until next time,
Good day, and good dog!
Similar Posts: