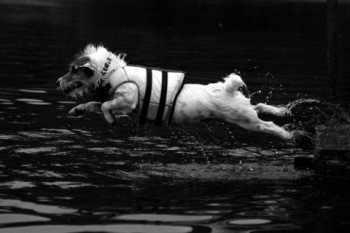 Do you get the Outdoor Channel?  If so, tune in this Saturday for Dogs and Logs, a combination lumberjack and dock diving show.
This is really the origins of Dock Diving.  ESPN was looking for something to use as filler between events at an outdoorsman competition, and thought it might be interesting to do something with dogs.  Someone at ESPN contacted a friend in Medina, Ohio, who came up with the Dock Diving concept, and the sport was born.
In celebration of those beginnings, the Stihl IronJack (Ironman Lumberjack), includes the IronDog competition, where dogs compete in Big Air, Extreme Vertical, and Speed Retrieve to earn the title.
In my area, Dogs and Logs airs Saturday, November 20th at 2:30 pm, and re-runs Sunday, November 21st at 3:00 am.  This event is the semi-finals from Salem, Oregon.
There was a preview of the show today – if you watch this weekend, pay special attention to something you almost never see:  the handler falls into the pool!  Too funny.
Until next time,
Good day, and good dog!