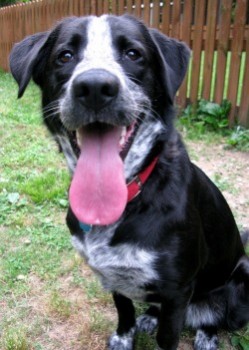 Meet Abby, who currently resides in Birmingham, AL courtesy of Last Chance Dog Rescue.  I chose her to feature because Abby is one of my most favorite names for a girl.  Read more about this beauty below:
Abby is a little over a year old, weighs approx. 50 pounds, and is a Border Collie/Australian Cattle dog (Heeler) mix.  Abby is HIGHLY intelligent and truly enjoys learning.  She is outgoing and social, she loves interaction with people and other dogs.  Abby is very affectionate and just wants someone to give her attention and love.  She is full of energy.  Loves to run, chase balls and squirrels.  She lives to PLAY!  Great with kids, but needs older children (aged 6 and up) because she can accidentally knock a toddler down.  Fine with both cats and dogs.  
Abby needs a lot of exercise and activity or else she gets very bored.  It's important that Abby go to a home with a very secure fence–she loves to explore.  She's an inside dog, but needs to be able to run and play outside several times a day. Abby is spayed, up to date on shots, heartworm negative, microchipped.  She is both crate trained AND house trained.  Adoption fee is $100 to recover a small portion of her vetting costs and enable us to save more dogs.  To learn more about Abby or request an application form, email [email protected].  LOCATED IN BIRMINGHAM, AL, WILLING TO TRANSPORT TO GREAT HOME.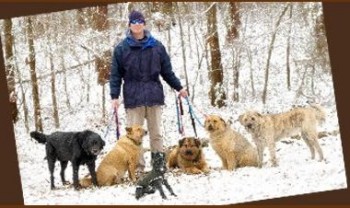 I had to include this picture from Last Chance's website because it warms the heart – a whole gaggle of dogs out for a stroll in the snow!  ("Pack" has such negative connotations.  I prefer "gaggle.") 
If you're near Birmingham, why not consider adding Abby to your home?  If you're not, check out the other shelters listed on PetFinder's Shelter Center.
Until next time,
Good day, and good dog!
Similar Posts: