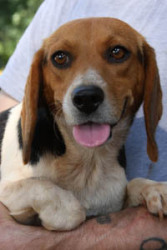 This is Flower.  You know I have a soft spot for Beagles, and what a cutie!  Flower currently lives in a shelter, and is advertised for adoption by Lucky Dog Animal Rescue in Washington, DC.
According to Lucky Dog's web site,
Flower is a small 15lb Beagle. At 1.5 years old she won't get any bigger! She does great with kids and other dogs. If you have a cat, we could find out how she does with cats for you.

Flower is a complete love muffin and feels that the best seat in the house is someone's lap! Flower would make a great companion for an individual or a family with small children.
Flower loves to play and would make a great dog park companion or hiking buddy. After a day of fun, Flower would make a great TV watching partner.
Flower is patiently waiting for someone to adopt her. She isn't sure how she ended up at the shelter but she knows she can't wait to go home. Could you be Flower's new family?
Like most shelter dogs, Flower may need a refresher on housetraining. She is likely crate trained.
The adoption fee for this dog is $280, which includes the cost of routine vetting, including vaccinations and spay/neuter.

If you're going to be in our nation's capitol, why not contact Lucky Dog by e-mail to KateD AT LuckyDogAnimalRescue DOT org to arrange a visit.  And if you're not near DC, you can still support Lucky Dog's work by purchasing something from Mutts It To Ya.  They will donate $5 to Lucky Dog for each item you buy through their online store in 2010 if you identify Lucky Dog during the check-out process.
Don't forget to visit PetFinder's Shelter Center to check out all the adoptable dogs in your area.
Until next time,
Good day, and good dog!
Similar Posts: