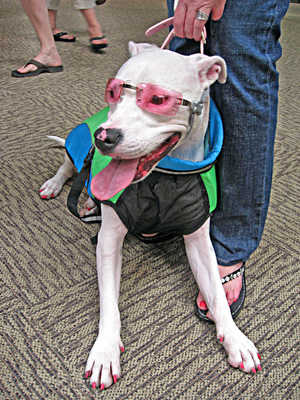 Canine fashion show promotes awareness of organizations
By Tara Bozick – Victoria Advocate
At the Just Dogs! fashion show at the Victoria Mall on Saturday, fifteen dogs modeled outfits to promote awareness for organizations that help dogs. Lexie and Koda, known as a teddy bear breed, showed off their bridesmaid and best man ensembles to the audience while children reached up to pet their heads.
Lexie and Koda's owner Tina Montgomery brought four dogs to the fashion show, dressing them up as bride and groom, in swimsuits and as rockers.
Owner of Just Dogs!, Will Cleveland ordered wedding gowns and tuxedos for the second annual show. He hopes the hundreds who gathered to see the cute puppies noticed the organizations that encourage spaying and neutering.
"We've got too many dogs that don't have a home now," Cleveland said.
Similar Posts: