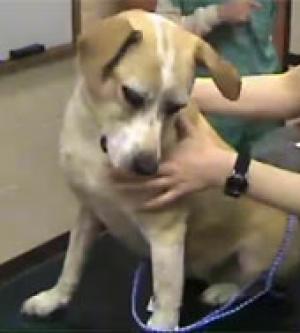 Dixie.  Picture courtesy of Iowa State University
Vets at Iowa State University have performed the first canine corneal transplant in the United States. 
Dixie, a Mountain Cur from Runnells, Iowa had experienced declining eyesight for a number of years.  Her quality of life had declined as she became fearful to go anywhere.  As she became sedentary, her weight skyrocketed.  After surgery to implant a new German-made plastic cornea, Dixie has become more confident and has lost seven pounds.
The procedure is still in the investigative stages, but Acrivet, the manufacturer of the implant, is hopeful that their product will be commercially available soon.  There are risks involved with the surgery, so it is only recommended for dogs who have quality of life issues because of their vision. 
The procedure is not a cure-all, as it may not restore peripheral vision.  The success of the procedure is judged by dropping a cotton ball in front of the dog.  If the dog tracks the cotton by lowering her head, doctors know she saw it.  Dixie's human friend, Brett Williams, says, "When I came in to watch, and they dropped that cotton ball, I thought 'I got my dog back!"
The complete story can be found in Science Daily.
Until next time,
Good day, and good dog!
Similar Posts: