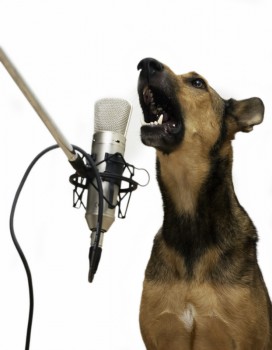 Zoe, a nine-year old spaniel from Lothians, Edinburgh, may be more valuable than most dogs.  She recently won her guardian 1000 pounds (nearly $2000 in American money) with her outstanding singing ability.
As part of the Lucky Tune contest, Zoe belted out the Sugababes hit About You Now and won not only the money, but an invitation to appear on a local radio station.
Her guardian, Carol Davidson, says that Zoe is "quite popular with local kids and friends – some of the kids nearby come along to the house to hear her sing and it's a great party piece for her.  She's a real attention-seeker, too, and has been singing since she was about three.  She doesn't even need a backing track to sing along to."
Look out, Kylie Minogue!
Until next time,
Good day, and good dog!
Similar Posts: