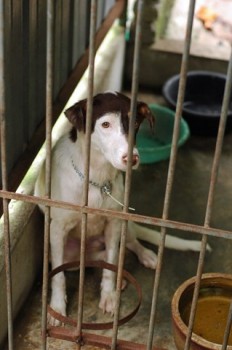 The National Council on Pet Population Study and Policy brings us this list of the top ten reasons why people relinquish their dogs to shelters.
Moving

– I think this has become especially common with the foreclosure rates climbing.

Landlord issues

– Don't you think they're overly picky sometimes?

Cost of pet maintenance

– People really need to give some thought to this before they take on a pet.

No time for pet

– Ditto for this one.

Inadequate facilities

– Not sure what this one means.

 

Really, all you need is a couple of dishes to feed and water the dog.

 

You can walk him or tie him out if he needs to go to the bathroom, and you can use old socks for toys.

 

What facilities???

Too many pets in home

– Again, didn't you know how many pets you had before you picked this one?

Pet illness (es)

– This one turns my stomach a bit.

 

The dog needs you more than ever when he's sick.

 

I know it gets expensive sometimes, but I can't imagine just dropping off my pet because he was sick.

 

Personal problems

– Hard to argue with this one.

Biting

– I really struggle with this one.

 

I have a biter that hasn't responded to any of the training we've tried.

 

I hate the liability and feel badly for the people she's bitten, but I can't see giving her up.

 

She's such a sweet dog, 99% of the time, but she's timid and has bitten a couple of people who she thought shouldn't be coming into the house.

No homes for littermates

– Two words:

 

SPAY and NEUTER!!!
Until next time,
Good day, and good dog!
Similar Posts: