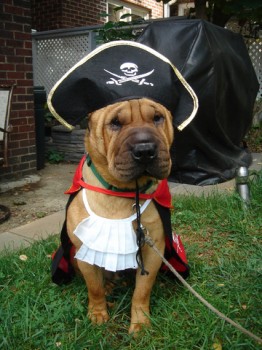 The American Kennel Club recently released the results of a survey of 2007 names under which purebred dogs were registered.  Lisa Peterson, a spokeswoman for the AKC, says changing times are being reflected in the names we give our dogs.
It used to be that we named our dogs based on how they looked or acted, such as  Spot or Mittens.  Now, says Peterson, "We are seeing human names, such as 'Jack' or 'Molly,' and names that reflect a pet's stature in the home, such as 'King' or 'Princess,' gain popularity as more people consider their dog a valued member of the family.
So, here is the list of not just the top ten boy dog names, but (because we love you!) the top twenty names.
20.  Buster
19.  Cooper
18.  Midnight
17.  Lou
16. Dakota
15. Hunter
14. Lucky
13. Shadow
12. Jake
11.Harley
10. Rocky
9.  Bailey
8.  King
7.  Prince
6.  Jack
5.  Buddy
4.  Duke
3.  Max (also Maximus and Maxwell)
2.  Blue
1.  Bear
Did your dog's name make the list?
Next week, of course, we'll present the girls' names.
Until next time,
Good day, and good dog!
Similar Posts: