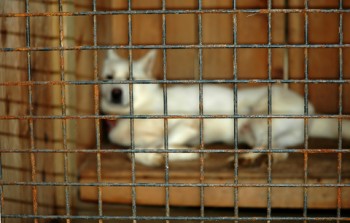 Good news!  Pennsylvania, often called the Puppy Mill Capitol of the Eastern United States, has finally passed tough new laws that limit the ability of puppy mills to keep their breeding stock locked up in small cages under inhumane conditions.
The new law requires that commercial kennels provide, larger kennels, adequate exercise and at least twice yearly veterinary visits to their breeding stock.
The new law in Pennsylvania targets about 650 large-scale commercial breeders, or roughly one-quarter of the state's 2,600 licensed kennels, that sell any dogs to dealers and pet shops or traffic in at least 60 dogs per year. Violators would be subject to both criminal and civil penalties.
The law also gives dog wardens the authority to act on alleged violations, a power previously given only to police and humane officers. Also, only veterinarians will be allowed to euthanize dogs in commercial breeding kennels.
The new law is also stricter than federal inspection standards to which kennels are subjected, said Ken Brandt, lobbyist for the Pennsylvania Professional Dog Breeders' Association, which represents about 400 breeders.
"Quality breeders got shortchanged by the ones that have not been operating properly," Brandt said.
"We've catapulted ourselves into having one of the best laws in the country," said Sarah Speed, the Humane Society's Pennsylvania state director."
This is good news, but regulations only go so far.  What can you do to help?  If you can, pick up an unwanted dog at your local animal shelter.  If you absolutely must have a purebred or a show-quality dog, don't buy from anyone other than a good, responsible breeder. 
Look for signs that the breeding dogs are being treated as well as the puppies who are being sold.  Do they have adequate space to run around and play?  Do they look healthy?  Are they free of fleas, ticks, and other parasites? 
Ask the breeder how many times he breeds each of his bitches each year.  Ideally, he will tell you only once, but twice is also acceptable.  Ask how many times a vet sees his breeding stock.  Check out his records to see if he keeps track of his breeding successes and how they were achieved.  If a particular pair produced puppies with health problems, did he take the time to find out why and avoid the situation in the future?
If you can't visit the breeder in person, ask the pet store where they got the puppies they are selling.  If they can't tell you, run, don't walk, in the other direction.  A reputable breeder will insist that you bring the puppies back to him if things don't work out in your home.  Anyone who doesn't ask you to do that is likely not interested in the dogs as much as he is interested in the profit he can make from them.
Do your part – check out your breeder!  And, if your state doesn't regulate commercial breeders, start bugging your state Legislature to pass tough laws to assure that puppy mills don't flourish in your state.  The law in Pennsylvania was passed largely due to the grass roots effort of a suburban Philadelphia rescue organization.  You can make a similar change in your state!
Until next time,
Good day, and good dog!
Similar Posts: