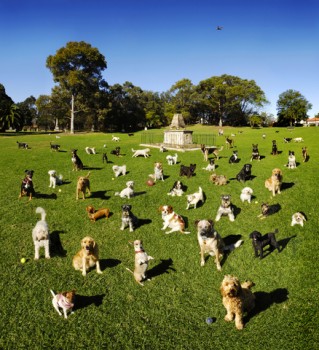 How could they have possibly thought this was a good solution?  Two kennel owners in Maxatawny Township, PA were inspected by the dog warden, and were cited for a number of things, including excessive flea and fly bites on 39 of their dogs.  Rather than seek treatment or flea-dip the dogs, they SHOT them!
After receiving citations for the insects, as well as for extreme heat, insufficient bedding and floors that the dogs' feet could fall through, Elmer Zimmerman shot 70 dogs at his E&A Kennel.  His brother, Ammon Zimmerman, shot 10 dogs at his neighboring business, A&J Kennel.  Both men stated that they were getting out of the breeding business, but did not want to turn their dogs over to shelters.
In response, a group of about 100 animal advocates sang "Amazing Grace" and left 80 chrysanthemums and 80 dog biscuits at the end of Elmer's lane in memory the 80 dogs shot to death by the brothers. 
Current laws in Pennsylvania allow kennel owners to euthanize their own dogs for any reason.  I'm pretty sure this isn't what lawmakers had in mind.  Governor Ed Rendell is now pushing for a change to the state's laws via House Bill 2525, which proposes sweeping changes to state laws governing breeder dogs who spend their lives in the state's hundreds of large-scale commercial breeding kennels.  State Secretary of Agriculture Dennis Wolff said in a statement released earlier this week. "Until our state's outdated dog law is changed, kennel owners may continue to kill their dogs for any reason they see fit, even if it is simply to save money."
Some feel that the brothers' actions were out of spite for the proposed law, but others say it is not uncommon for puppy mill owners to drown or shoot their dogs when they no longer have a use for them.  Still others fault the fact that puppy mills are rampant in Pennsylvania, particularly among the Amish and Mennonite.  According to advocate Jana Kohl, as many as 20% of the nation's puppy mills are owned by members of these two religious communities.  She is ready to start a campaign advertising this information, hoping to put a dent in the tourism industry in the Lancaster County area of Pennsylvania, home of the country's oldest Amish communities.
Until next time,
Good day, and good dog!
Similar Posts: