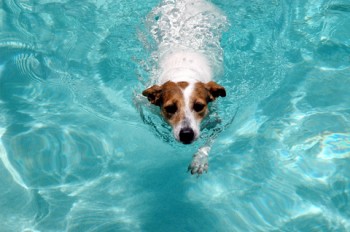 Just like you, your dog can get many benefits from exercising regularly.  A daily walk or romp at the dog park helps with obesity, stress, blood pressure, and many other ailments.  So, how much exercise does your dog need each day?
It seems the only thing everyone agrees on is that you should let your dog decide.  It doesn't seem to be based on size nor on breed.  Some dogs will be simply pooped after 15 minutes and won't want any more exercise.  Others could go on and on like the Energizer bunny.
A good average for most dogs is 30 minutes.  You might start with that and see how your dog acts afterwards.  If he sleeps the rest of the day, 30 minutes is probably too much.  If he comes home and is still wild, you may want to play longer.
Whether you walk, jog, run, play fetch or allow the dog to socialize at a dog park, make sure you have plenty of water available during and after exercise to keep your dog hydrated.  Also, check his foot pads after exercise to make sure he has not damaged them while traveling over rough surfaces.
Now that fall is upon us, winter will soon be here.  In some parts of the country, this makes it harder to get outside for daily exercise, so put some thought into how you will keep your dog's fitness level up while you are cooped up.  Do you have a room large enough to play fetch in?  Will the dog walk on the treadmill with you?  Is there an indoor agility training area near you?
Whatever you decide to do, your dog will love the fact that you are spending time with him on a daily basis, and, as a bonus, you're actually improving his health so he'll be around for a long time to come.
Until next time,
Good day, and good dog!
Similar Posts: