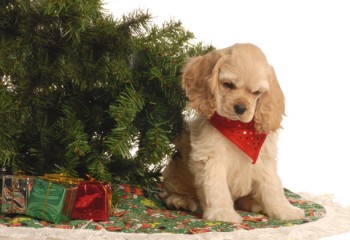 Do you have all of your shopping done for the holidays yet? We here at doggies.com just have one request:  please, please, please don't buy a puppy on impulse and put him under the Christmas tree or Hanukkah bush.  Choosing a puppy is a very personal decision.  Care must be taken to match the dog to the person and his or her lifestyle. 

Although puppies are about the cutest thing known to man, they do not make good gifts.  For one thing, that cuteness has to cover a lot of other not-so-cute things.  My theory is that the reason God made puppies so cute was to ensure survival of the species since everything else about them is so annoying!  They chew your shoes, pee on your carpet, beg to be let outside at 3 am on the coldest night of the year, etc.
Besides all of that, puppies are a huge responsibility, and one which you simply cannot undertake for another person.  Let's say you give your girlfriend a puppy as a true expression of your love.  Have you stopped to think that you are requiring her to make a 10 – 15 year commitment to the dog, who will stop being so cute as he grows up?  How will she feel about the dog in the months after you've broken up with her?
Even if you are buying the puppy for your child, surely you must realize that you will end up doing the work associated with the dog.  Someone has to clean up the backyard or walking route, and you can be sure it won't be your five year old.  Kids have not always been known to be great about remembering feeding schedules and vet visits, either.
Finally, when you give a puppy as a gift, you are entering into an expensive proposition for the recipient.  According to the American Veterinary Medical Association, the average American spends about $350 in medical expenses per dog, and that's just for routine care.  What about when he swallows some of the tinsel from the tree?  Food for a large dog may cost as much as $25 per week.  Other expenses include grooming, accessories, and toys.
As much as I love the four dogs at my house, I recognize that they have pretty much taken over what little free time I have.  So, no matter how much someone on your gift list is begging, please, please, please don't give them a puppy! 
Until next time,
Good day, and good dog!
Similar Posts: