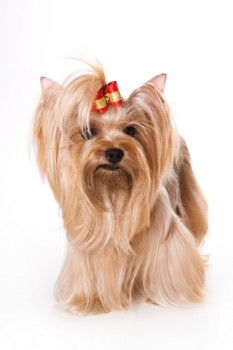 AS OF JANUARY 20TH, THIS DOG HAS BEEN PLACED IN A WONDERFUL HOME.
Are any of you Washington readers looking for a new Yorkie to add to your home?  I received this e-mail from Belinda of Spanaway, WA.
I was searching the web on how to find a good home for my yorki   
terrire ..and i stumbled up on your email address .im on bed rest  
and i cant  take good care of him right now and as much as it breaks  my heart to let him go"i want him to be loved and taken  
care of  > by  some one who can'……'hes a boy he has been nutard 
..he loves  > kids  to much i think..he gets so excited when someone 
comes to the   > house"the only problem i have is when you drop 
something he will   > swipe it up and go under the bed .. and if you 
try to take it  away   > from him .he will growl…other then that 
he is so playful full of   > energy"he makes a sad day happy…..
This is my first time with a dog so hopefully you can give me some 
tips or where i can look to find him a home
thank you
If you can help, please e-mail me at [email protected]
Thanks!
Until next time,
Good day, and good dog!

Similar Posts: