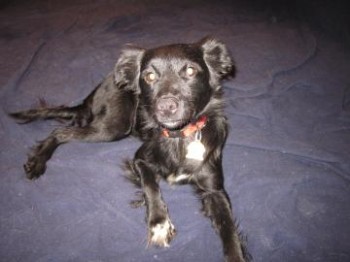 Meet Moe! This cute miniature Schipperke / Dachshound mix is currently living in foster care in Adel, Iowa, courtesy of A Heinz 57 Pet Rescue and Transport. He's just shy of two years old, and here's what their website has to say about this little charmer.

Moe has high playful energy and loves to go on walks with his backpack or play frisbee in the backyard. He doesn't even seem to mind if the frisbee is bigger than him.
Moe would love it if his forever family would continue with his structured walking. He loves playing with the other 3 dogs in his foster home so it would be great if he could go to a home that has at least one other playful dog. Moe was found as a stray and therefore requires a fenced in yard. He is also quite the jumper so it is preferred that the fence is 6ft tall.
If you're going to be in Iowa, why not contact A Heinz 57 and ask to meet Moe and all of his friends. Call (515) 834-3016, fill out an online application, or send an e-mail to [email protected]
If you're somewhere else, check out Petfinder's Shelter Center to find adoptable dogs near you.
Until next time,
Good day, and good dog!

Similar Posts: