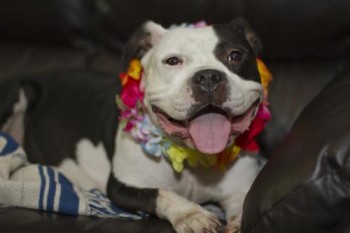 Meet Buttons! This beautiful 2-year old Pit Bull is living in foster care in Lawrence, Kansas courtesy of Game Dog Guardian. Here's what their website has to say about this beauty.

Cute as a button! Our little Buttons is a doll – she loves everyone and everything. She is in a foster home with a Boxer and (as you can see from the photo) a Shih Tzu and does well. Buttons is approximately 2 years old and weighs about 45 lbs.
She loves going to doggie daycare and meeting new people and dogs. Buttons is adorably outgoing and social. She requires minimal to moderate exercise, and will surely let you know (with a big ol' kiss) if you're not paying enough attention to her. She would do well in nearly any home and we're super excited to see her as a family pet some day.
If you're going to be near Kansas, why not contact Game Dog Guardian and make arrangements to meet Buttons and all of her friends. Send an e-mail to [email protected] or check out their Facebook page.
If you're somewhere else, visit PetFinder's Shelter Center to find adoptable dogs near you.
Until next time,
Good day, and good dog!

Similar Posts: