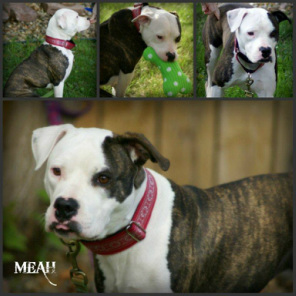 Meet Meah! This 1-year old Pit Bull is currently living with Sioux Empire Pit Rescue in Sioux Falls, South Dakota. Here's what their website has to say about his beautiful girl.

Meah found herself with her sister Laila sitting in a busy shelter and if that was not bad enough the city also had a pit bull ban. Things couldn't have looked bleaker for these girls, but after shelter staff fell in love with these two bubbly personalities SEPR knew we needed to find a place for them one way or another. Meah is the sweetest little girl you'll ever meet!
Meah is our lipstick model – as you can tell by her striking colors! She loves meeting new people and very curious by nature. She's is young and fun – your typical wiggle butt!
Meah is house trained and crate trained. She is a quick learner and already has sit and lay down under her belt! When she's not playing with her new foster kids, she enjoys tummy rubs, snuggling, car rides, and playing with her Kong while doing zoomies in the back yard! She is also working hard on her leash manners with her gentle leader.
Meah LOVES people – especially children. She is also fostered with other canines and true to young puppy nature loves to play, play, play. A home with a nice submissive male companion would be right up this hot tamale's alley. On the other hand she loves to be the center of attention so if she is lucky enough to be the only dog she will repay your family with an endless supply of pit bull kisses **WARNING YOU MAY GET WET**. Meah is a small little girl and would fit wonderfully into just about any family. She would be an excellent dog for the first time pit bull owner and SEPR is excited to finally find a committed family that this angel deserves!
If you're going to be near South Dakota, why not contact Sioux Empire and make arrangements to meet Meah and all of her friends. Fill out an online contact form or adoption application.
If you're somewhere else, check out PetFinder's Shelter Center for adoptable dogs near you.
Until next time,
Good day, and good dog!
Similar Posts: