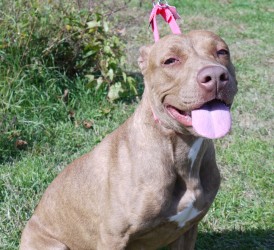 Meet Mikayla!  She is currently in the custody of the Camden County Animal Shelter in Blackwood, NJ, where they seem to have been overrun by Pit Bulls.  (47 of the 54 dogs they have available are Pit Bulls or Pit Bull mixes.)  Here's what their website has to say about beautiful Mikayla.
Mikayla came to the shelter as a stray. She is about a year old and weighs 50 pounds. Mikayla can be a bit shy when she first meets you but warms up quickly. She likes to snuggle and will lean up against you to be pet. She's a real sweet girl who just loves everyone! Mikayla likes to play with toys and loves to run around with them in her mouth! She'd love a yard to play in at her new home. Mikayla is good with other dogs and would need to be further tested with cats if her new family has them. Older children would be best for her since she is a little shy. Please come to take her home today!
The adoption fee for canines includes spay/neuter, age-appropriate vaccinations, heartworm test, initial deworming treatment, microchip and pet medical insurance. Vaccinations and deworming are the first in a series which should be followed up by the adopters veterinarian.
If you're going to be in Camden, please contact the shelter to meet Mikayla and her friends by:
Phone: 856.401.1300
Fax: 856.401.1309
Email: Info AT ccasnj DOT org
If you're somewhere else, check out PetFinder's Shelter Center for available adoptable dogs in your area.
Until next time,
Good day, and good dog!
Similar Posts: