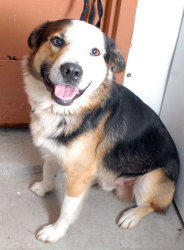 Meet Parker!  He is currently in URGENT need of a home and is being held at the Ft. Leavenworth Stray Facility.  Isn't Ft. Leavenworth the army's jail?  Anyways, I was intrigued by this facility because they house stray dogs found on post that aren't claimed.  Military affiliation is not required to adopt one of their dogs.
Here's Parker's story from PetFinder:
Parker came in as a stray with sweet Nakomis, who has already been adopted. Parker is ready for fun and loves, loves, loves his daily walks. He is ready for a snuggle with friends, but is a bit timid, and barks loudly, with strangers. Parker can be a bit fearful and does not show his fun, sweet side well behind the bars of his kennel, but he does well outside the kennel and on a leash. Parker suffers from fear aggression, so he'll need someone really dog savvy and patient. Parker's adoption fee is $107, which includes the works: vaccinations, microchip, neuter surgery, heartworm test, etc. Call 913-684-6510.
If, like Toto, you're not in Kansas anymore, check out PetFinder's Shelter Center for adoptable dogs near you.
Until next time,
Good day, and good dog!
Similar Posts: