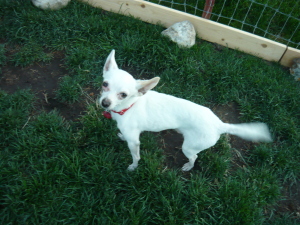 Meet Dakota!  Dakota is currently living with Best Friends of Baker in Baker County, Oregon.  Here's what their website has to say about him.
Dakota is a small male Chihuahua. He is so friendly and greets everyone with his whole body wiggling and wagging all over the place. Dakota is in a great foster home and getting plenty of high quality food and excellent care. Dakota is living in a foster care with one adult male and three small dogs and doing very well. He gets along with all the dogs.
He has excellent house manners and house training. He uses the doggie door to go outside and take care of business. dakota knows basic commands and is eager to please. Dakota loves to go for rides in the car, but is best on a leash when he is outside his fenced yard.
Because of Dakota's small size, he should not be left outside by himself or he might fall victim to owls, hawks or eagles. Dakota is an indoor dog only, but does love to be outside with people to run and play and enjoy playing with the other dogs. Dakota is neutered, vaccinated and micro-chipped . Dakota says that he is related to the Taco Bell dude only distantly – they aren't even the same color mi amigos!
If you're near Baker County and would like to meet Dakota and his friends, please give Best Friends of Baker, Inc. a call at 541-519-7387.
If you're somewhere else, please check out PetFinder's Shelter Center to locate adoptable dogs near you!
Until next time,
Good day, and good dog!
Similar Posts: