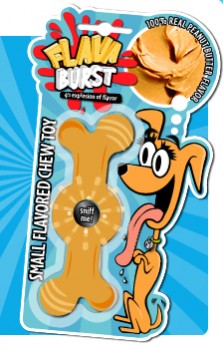 Hanover Accessories was kind enough to send me some samples of their Flava Burst brand Dog Chew Toys.  The treats come in three sizes, perfect for any dog, and they are available in three different scents / flavors:  bacon, peanut butter, or pizza.
Here's what the company says are the benefits of their product:
Features a new breakthrough technology that provides long lasting flavor and scent
Unlike existing products that simply spray on flavor. Flava Burst technology incorporates infused flavor that is slowly released through diffusion
Unique pet chew shapes and textures designed to engage pets
FDA compliant – product mixture of FDA approved components (meets 21 CFR regulations)
Durable TPR and EVA plastics that pass pet toy test requirements
I gotta say, I wasn't all that impressed.  Of my four dogs, only one was terribly interested in any of the toys, and he  rapidly chewed them into small bits.  The scents, while designed to attract the dogs, were pretty "fragrant" for those of us with two legs.  And the bacon-flavored toy, when chewed up and spit out, looks remarkably like dog doo when you see it on your carpet.  (Although it's a lot easier to clean up.)
The bone-shaped toys are soft and pliable, and have a shape that should be comfortable in your dog's mouth.  I just couldn't get my dogs interested in them enough to make it worth my while to buy any more of them.
In my opinion, they need to go back to the drawing board with this one.
Until next time,
Good day, and good dog!
Similar Posts: