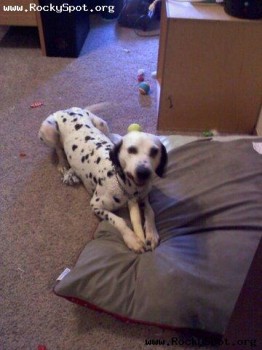 Meet Shot Glass!  Also known as Shooter, he is currently being kenneled by RockySpot Rescue in Newcastle, OK.  Here's what he dictated to their webmaster.
Everyone says I am 'sure a good looking Dalmatian! I came in all thin and stressed. Gesh… you would be too if you were living down in Texas and woke up one morning in Oklahoma and did not know why! But I am such a love that no one cares if I am from Texas.. the love me anyway. I am a good sized boy who just LOVES human contact and attention. I am housebroken and crate trained and can use a doggie door! I don't do well with small animals such as cats, squirrels and small dogs. I am from Texas after all and we HUNT them thar critters down that way! I had Heartworms but they are gone now! Thank goodness for I have no idea how they got in my heart! ugh!
I tend to be a little fear aggressive with other dogs that scare me. Which means most male dogs as I know how mean they can be but with sweet female dogs I am in heaven! I was in a foster home for awhile and did WONDERFUL. My foster dad LOVED me and he taught me right from wrong and how to live in the human world. THANK YOU FOSTER DAD.
I am back at the kennels now and I hate it. I sooo miss living in a house and having so much love and attention. Do you have a house I can live in with you? One without small dogs, cats, or male dogs? If so COME SAVE ME FROM THIS KENNEL! I really really belong in a home! I will wait for you.
If you're in Oklahoma, why not make an appointment to meet Shooter and all of his friends.  You can call 405-699=7358 or send an e-mail to dals AT rockyspot DOT org.
If you're somewhere else, check out PetFinder's Shelter Center to find adoptable dogs near you.
Until next time,
Good day, and good dog!
Similar Posts: